About Bracken Ridge
Veterinary Medical Doctor
Full-Service Mobile Veterinary Clinic – 24/7 Medical and Surgical Care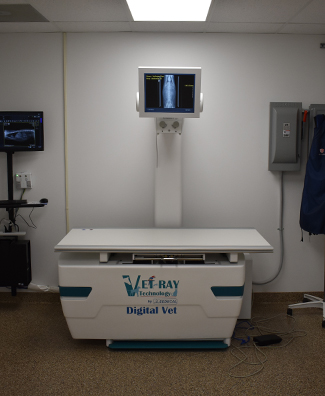 Bracken Ridge Veterinary Medical Doctor, Inc. (Bracken Ridge Animal Hospital) is an all-species, full-service clinical and ambulatory practice providing state-of-the-art 24-hour medical and surgical care. Comprehensive veterinary care for companion pets and livestock animals is offered at our brand new 5,000 sq. ft. veterinary hospital in Bedford, PA, or at your residence or farm.
Our practice is licensed in Pennsylvania. Bracken Ridge V.M.D. offers comprehensive veterinary care including preventive medicine, immunizations, dentistry, digital radiology, laser surgery, ophthalmology, therapeutic laser, digital ultrasound, treatment for lameness, colic, and a wide range of medical issues, as well as emergency and critical care.
Our Mission
At Bracken Ridge V.M.D., Inc., we serve to provide the best veterinary medical, surgical, wellness, emergency and critical care to your companion, farm, and exotic pets with compassion and dedication.
Our Philosophy
Our veterinarians, licensed veterinarian technicians, and highly trained medical care support team are dedicated to providing compassionate care at reasonable prices to animals of all species and sizes. Our team members have dedicated their lives to serving the healthcare needs of our patients. We firmly believe that each animal under our care deserves to be treated with genuine concern, dignity, and sensitivity, as well as the highest possible level of professional medical care. As your animal's caretaker, we work with you to develop the patient's care plan and promise to provide both you and your pet excellence in veterinary care services.
Emergency Care Policy for Non-Established Clients
At Bracken Ridge V.M.D., Inc., we recognize the importance of providing reliable emergency and critical care services for all animals within our service jurisdiction. Therefore, we are available to meet your needs for urgent medical, surgical, and dental care whether or not you and your pet/livestock are established clients with our veterinary facility; however, please understand that our established patients are provided priority service in cases involving simultaneous emergency and critical medical situations. Your regular patronage of Bracken Ridge V.M.D., Inc. ensures that adequate staffing is available for your pet's routine, as well as emergency, healthcare needs.
History of Bracken Ridge Animal Hospital
Established in 1999 as an exclusive large animal and livestock veterinary practice, Bracken Ridge V.M.D., Inc. expanded our services in 2012 to provide comprehensive care for all species large and small. In January 2020, we proudly opened our new 5,000 sq. ft. animal hospital to better serve the preventive, wellness, routine, and emergency medical needs of our patients. Our team provides exemplary client service and compassionate evidence-based medicine and patient care at our clean, modern hospital facility in Bedford, as well as through our mobile ambulatory care service for farm animals and small domestic pets in Bedford, Fulton, Huntingdon, Blair, Somerset, and Cambria County, PA.
Full-Service Veterinary Hospital and Ambulatory Care Services
Our full-service animal hospital and veterinary practice offers a complete range of advanced imaging, diagnostics, wellness, surgical, and medical services that are otherwise unavailable throughout many of the areas we serve. In accordance with our mission, we have expanded our in-house and ambulatory care services to help ensure that our patients have access to the essential preventive and critical care services they need to live their best lives. As we move forward into the future, our practice remains dedicated to providing an enhanced level of livestock and companion animal care of the highest quality at-home, on the farm, at our clinic, and in our modern hospital setting as most appropriate to help our patients enjoy long, healthy lives.