Patient Information
Bracken Ridge Veterinary Hospital – Bedford, PA
At Bracken Ridge Veterinary Hospital, you can expect state-of-the-art medical care for your beloved pet and friendly, professional service. Our veterinarian and staff believe in providing compassionate care with dignity and nurturing the human-pet bond to create a harmonious relationship between human caregivers and their pets. When visiting our facility, you will be greeted by a courteous receptionist, clean exam rooms, friendly, knowledgeable doctors, and caring veterinarian technicians who have your pet's best interests at heart. We invite you to learn more about our staff and facility and contact us with any questions or concerns about your pet, as well as to make an appointment. Call Bracken Ridge Veterinary Hospital at: 814-623-1888.
Thank you for choosing Bracken Ridge Veterinary Hospital for all your pets' health care needs!
Quality Dog and Cat Food – A Hill's Science Diet Authorized Retailer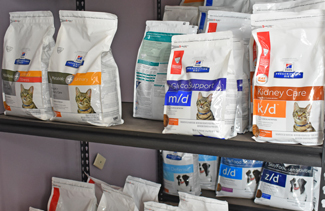 With so much recent uncertainty surrounding the quality of both standard and "premium" quality pet foods offered at retail stores, Bracken Ridge Veterinary Hospital has made the decision to offer our valued patients access to a brand that we believe we can stand behind. We proudly carry the full lineup of Hill's Science Diet with options available to meet the comprehensive dietary needs of your pet – with none of the worry.
Safe, Effective Flea and Tick Medicine for a Happy & Healthy Pet
Keep your favorite furry friend happy and healthy with our complete lineup of safe and effective flea and tick control products. Aside from causing intense itching and irritation, fleas and ticks can carry diseases – many of which can spread to humans. Once an infestation gains a foothold in your home, it can be costly and time-consuming to eradicate. The best way to avoid these issues is regular application of a proven preventive medication. Bracken Ridge Veterinary Hospital offers a full range of flea and tick preventatives, as well as diagnostic and treatment options to keep your pet – and your family – free of the harmful effects of these parasites.
Pet Health Insurance
Affordable health insurance can help keep your furry or feathered family member well. A pet health insurance plan can help cover your pet's regular wellness care as well as any illnesses or accidents, congenital and hereditary conditions. Some plans also include coverage for boarding fees if you become ill, as well as other valuable coverage. A wide range of options are available with plans as low as $1 a day for standard coverage and options for everything from x-rays, dental care, medications and surgery to comprehensive cancer care. Most deductible range from $100 to $1,000 and annual coverage limits generally vary from $2,500 to unlimited coverage under some higher priced plans. Consider what coverage is best for your family and enjoy the peace of mind in knowing that your fur baby will receive the medical care he needs. Some options to consider are listed for your convenience.
Scratchpay Medical Payment Plans for Pet Parents
Straightforward low to zero-interest loans for medical care and treatment of your pet are available instantly through Scratchpay. You can apply for a reasonable payment plan right on your phone or computer. Simply choose the plan that works best for you and get your pet the care he needs right away.

Patient Forms
PRESCRIPTION REFILL REQUEST FORM
FOOD ORDER FORM
FLEA & TICK CONTROL PRODUCTS ORDER FORM
HOSPITAL POLICIES
APPOINTMENTS & PAYMENTS
PRIVACY POLICY
DONATIONS
MEDICAL RECORDS (CONSENT TO RELEASE MED RECORDS)
PRESCRIPTION
NEW CLIENT INFORMATION AND FORMS