24-Hour Veterinary Services
Bracken Ridge Animal Hospital – Bedford, PA
Therapeutic & Surgical Laser, Digital Ultrasound/Radiography and In-House Lab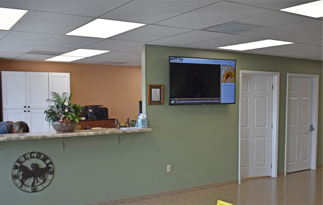 Bracken Ridge Veterinary Hospital provides a full range of care for all animal species. We provide routine wellness care, diagnostics, advanced therapeutic treatments, surgical intervention, emergency/critical care, and more for small animal pets, such as cats and dogs, as well as birds, exotic pets, and large animal livestock, including horses, cows, goats, and other small ruminants.
Can't Visit Us In Bedford, PA? We'll Come to You
Veterinary services are available at our medical hospital in Bedford, PA. Ambulatory care services are available at your residence or farm in Bedford, Fulton, Huntingdon, Blair, Somerset, and Cambria County, PA.
Call the office at: 814-623-1888 from 8:00 AM to 5:00 PM Monday through Thursday and Friday 8:00 AM to 12:00 PM.
After Hours, Call: 814-381-1905.
(5:00 PM – 8:00 AM Monday through Thursday, Friday 12:00 PM – 8:00 AM and All Day Saturday And Sunday)
– Immunization, Flea, Tick, Deworming, and Parasite Control
– Soft Tissue, Reconstructive And Orthopedic Procedures
– Full Dental Suite for Equine, Bovine, Ruminants and Small Companion Animal Patients
– Blood Analysis, CBC, Chem 10, Chem 17, Thyroid, Lyme Testing, FeLV/FIV, Parvovirus, Fecal, Urinalysis, and More
– Digital Coggins and Culture/Biopsy
– Digital Stationary (In-House) and Portable Imaging
– Lameness, and Colic
– Full In-House Pharmaceutical Services
– Mobile Veterinary Services Available Throughout Bedford, Fulton, Huntingdon, Blair, Somerset, and Cambria County, PA.
– Compassionate End-of-Life Care for All Animals
The staff of Bracken Ridge Veterinary Hospital is passionate about providing skilled, compassionate care for all animals. We look forward to providing your animal companion the same advanced, state-of-the-art medical care we provide our own pets, along with friendly, professional service.